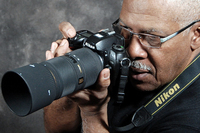 My love of photography spans nearly 5 decades, starting in my young adulthood as a seaman with the U.S. Navy. The 1960s provided many memorable images, both foreign and domestic, for an eager set of eyes and a photographic lens. Many things hav changed with the world since then, but my interest in photography has remained a constant in my life.

During these 50-odd years, I have learned new techniques and honed my skills in both composition and development. The advent fo the digital camera has made it easier to capture people while they live their lives, freeing photographers like myself from their studios. The ability to take a picture anywhere and alter it with a variety of effects allows me to make unique and one of a kind portraits, capturing not only the image, but the essence and emotion of the moments behind that image.

Over the years, my work has found its way into such publications as - The College Store Executive Magazine, The Philadelphia Daily News, and Philadelphia Metro Video Network - but my true love is portraits. I enjoy being around people, learning who they are and what is important to them, while creating a tangible, physical memory of their special moments in life. My name is Ronald Dennis, and I hope you will allow my snapshots to decorate the canvas of your life!
Ronald F. Dennis